Solutions
Structured cabling
We prepare, implement, test and support highly dependable, scalable, and secure network cabling and premise low voltage cabling systems that will help meet today's needs and those of the future.
We have installed thousands of Category 5e, 6 and 6a cables for hundreds of voice and data networks.
Our services include:
Cat 5e, Cat 6, Augmented Cat 6, shielded/unshielded, twisted pair, voice/data
Data center specialization/design and cabling
Copper and fiber 10 gig connectivity for campus and data center applications
Fiber optic cabling installation, fusion splicing, buried and overhead/outside plant cabling
Data cabling for wireless networks as well as access point installation and configurations including point-to-point and point-to-multi-point systems
Coaxial cable installation for CCTV, IP over coax, audio and broadband uses
Aerial/underground fiber optic design‑builds
Fault location
Product agnostic
We have an extensive list of trusted business partners.
We hold product certifications with many industry-leading manufacturers, including Panduit, General Cable, ADC, Corning, Belden, Siemon, CommScope and Berk‑Tek.
This provides us with the independence and flexibility to help your organization identify and meet the business requirements of your specific initiatives.








Suite of services
We offer a suite of front-end and follow-up preparation services. We help to provide consultation, design, installation and documentation of physical layer infrastructures and network connectivity that are commonly outsourced to multiple organizations. We have an in‑house CAD department, and Everon™ employs full‑time structured cabling technicians. We work to ensure that organizations have the proper submittal packages before integration begins, and we provide as-built drawings and cut-sheets after completion of the work.
Qualified people
We have dedicated creation teams to help ensure that both the design and implementation of all systems are successful. Once a system has been installed, our test inspection and maintenance teams make sure our clients are satisfied for many years to come. By offering a full suite of services, we are able to provide a single point of contact and accountability, eliminating the need to coordinate and manage multiple contractors while helping to reduce overall costs.
Certified technicians
We believe that testing and certification is paramount to customer satisfaction. We support and encourage our technicians to become BICSI-certified (Building Industry Consulting Service International). Having BICSI‑certified data cabling technicians helps to ensure adherence to the highest quality standards for installation, termination and testing. We also have BICSI-certified Registered Communications Distribution Designers (RCDD) and BICSI Network Transport Specialists (NTS) on staff and are Corningcertified in terminating, splicing, testing and troubleshooting both multimode and single mode fiber.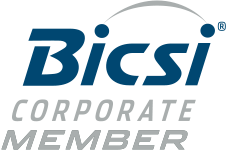 Company certifications
Panduit Certified Installer
Siemon CI Certified Installer
Commscope Certified Installer
Mohawk/CDT Installer
Belden BRIC Belden Registered Installation Contractor
Berk-Tek OASIS Contractor
Leviton Certified Cabling Systems Contractor
Let's start a conversation
We make it easy to switch providers, and our onboarding process is predictable, dependable and painless.