Government
State and local government
Your single-source security, fire and life safety partner in cost‑effective public sector procurement
Best-in-Class Security, Fire and Life Safety Solutions for State and Local Government Agencies
We understand that you have a duty to obtain the most effective, comprehensive security, fire and life safety solutions for your facilities—all while keeping budgets in check.
Achieving the best value for security and fire system installation and services in state and local government facilities, K-12 schools and higher education campuses requires partnering with a compliance-driven security integrator and trusted vendor with a national presence to deliver complex, multi-building solutions that help protect people, facilities and assets.
Discover how ADT Commercial can help you find the right security, fire and life safety solutions for your organization.
Achieve cost savings with pre-negotiated contracts
For state and local government agencies and schools, obtaining the best-in-class security, fire and life safety solution at the best value is paramount to maintaining budget costs.
As a member of the nation's top GPOs and cooperative purchasing organizations, we can help optimize your savings by leveraging our pre-negotiated contract vehicles to optimize your purchase process—all while staying on budget.
Discover how our teams can act as a critical resource for cooperative purchasing.

Optimize your purchasing process
We understand the challenges you face in carrying out the costly and time-consuming RFP procurement process. We can help you achieve greater value in your security program by offering you:
Streamlined purchasing timelines

We understand that the RFP process can be lengthy. Avoid project delays by leveraging our established contract vehicles with the top cooperative purchasing organizations to keep timelines in check.

Cost savings

Save money on costly agencies needed to execute an RFP and take advantage of our pre-negotiated solutions discounts and pricing as a trusted OMNIA provider.

Ease of purchase

Maximize your budget and limit unnecessary complexities in having to coordinate with additional agencies. As a member of the nation's top cooperative purchasing organizations,ADT Commercial can be your One Ideal Partner for all security, fire and life safety needs.

Robust solutions portfolio

We aim to be an all-in-one, product-agnostic provider, committed to service excellence at every turn. With ADT Commercial, you'll have access to a wide-ranging portfolio of the nation's top security, fire and life safety suppliers and the skills of our dedicated teams.

Compliance-driven approach

Our experts are well-versed in the requirements and compliance standards that govern the public sector—we can support a security program to match.

Increased transparency

By leveraging our pre-approved contract vehicles, you'll benefit from true transparency and the peace of mind of having visibility into our solutions, services and pricing—right from the very beginning.
---
Avoid delays, gain greater transparency and maximize your budget by partnering with ADT Commercial.

State and Local Government
You need a partner with the expertise and focus to recommend cost-effective, scalable solutions that will help improve the overall operations and safety of your facilities.
Given the essential, high-profile nature of governmental agencies, the sensitive information they house, and the heightened foot traffic they attract, it's important to deploy a comprehensive security, fire and life safety program that prioritizes the safety and security of visitors and staff.
Security Solutions
Electronic access control
IP video systems with analytics and reporting
Intrusion detection systems, including hold up/duress alarms
Fire and Life Safety Solutions
Advanced smoke, heat and gas detection
Emergency mustering and mass notification systems
Fire alarm systems
Fire monitoring, testing and inspections
Services
Systems integration
Design engineering
Installation, testing, inspections and maintenance
Specialized Solutions
Contagion management solutions
Contact tracing
Elevated skin temperature technologies
Gunshot detection solutions
License plate recognition
Personnel and asset locating
Types of facilities we protect:

City Hall

Public Works

Libraries

Water Authority

Fire Departments

State Correctional Facilities

State and Agencies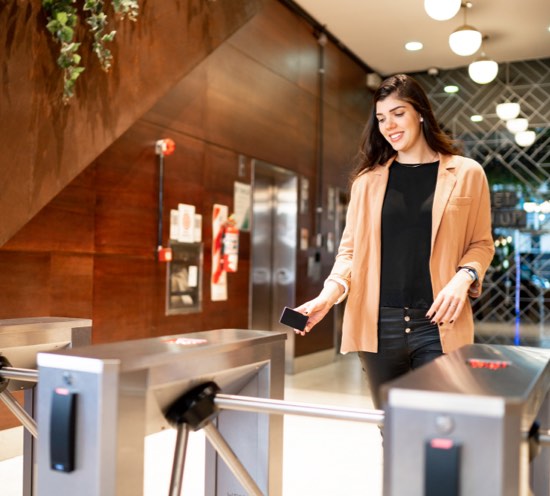 We can help mitigate risk from:
Unauthorized access/entry
Internal and external theft
Active shooter events
Terrorism
Workplace violence
Vandalism
Contagion spread
Fire and life safety risks
Certifications and qualifications for government regulatory compliance
ADT Commercial teams are certified to support a wide range of security, fire and life safety products.
Many of our industry-accredited National Fire & Life Safety team are NICET Certified, including technicians, installers and inspectors.
Our government specific security solutions are compliant with the following regulations:
GSA-approved Electronic Physical Access Control Systems (ePACs)
HSPD-12
FICAM
FISMA

K-12 Education
For K-12 schools and educational facilities, today's emerging threats require innovative, scalable solutions that help protect physical assets and keep students, faculty, administrators and visitors safe.
Primary and secondary schools today face a growing number of risks, making comprehensive security and emergency response solutions more important now than ever. Our portfolio of innovative solutions and emerging technologies helps protect your educational facilities—empowering schools to focus on keeping their students, staff and community safe.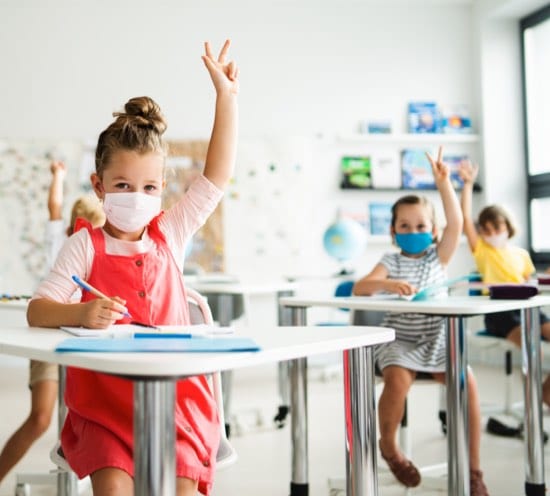 Types of facilities we protect:
Preschools and day care centers
Elementary schools
High schools
Public and private schools
Special education districts
Charter schools
Colleges and universities
We can help mitigate risk from:
Active shooter events
Contagion spread
Fire and life safety risks
Theft and vandalism
Unauthorized access and entry
Discover how ADT Commercial can help you create a safe learning environment by protecting students, faculty, administrators and visitors.

Higher Education
We deliver integrated security, fire and life safety solutions with enterprise-level technology to public and private colleges, universities and technical schools.
We are equipped with security technologies that are designed to protect virtually every element of campus life. Explore our comprehensive portfolio of solutions and services for educational facilities, including:
Security Solutions
Access control systems
Cloud and IP-based video systems
Remote monitoring
Fire and Life Safety Solutions
Emergency responder communication enhancement systems
Fire alarm systems
Fire monitoring, testing and inspections
Mass notification and emergency communications systems
Services
24/7/365 UL Listed monitoring
eSuiteSM account management
Ancillary services
Specialized Solutions
Gunshot detection solutions
Contagion management solutions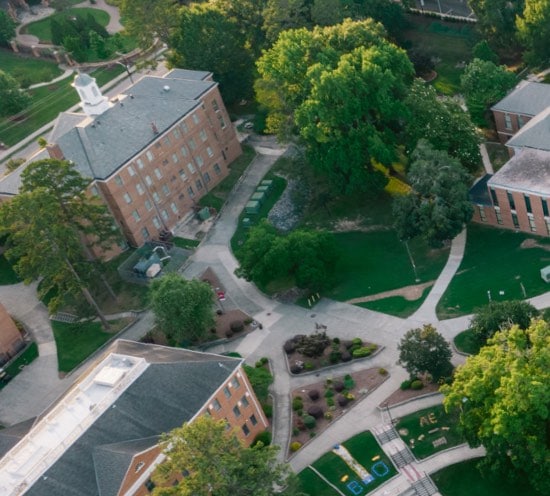 Types of facilities we protect:
Public and private colleges
Universities
Technical schools
Community colleges
Discover how ADT Commercial can help secure your campus by integrating enterprise-level technology to meet the emerging threats to your institution.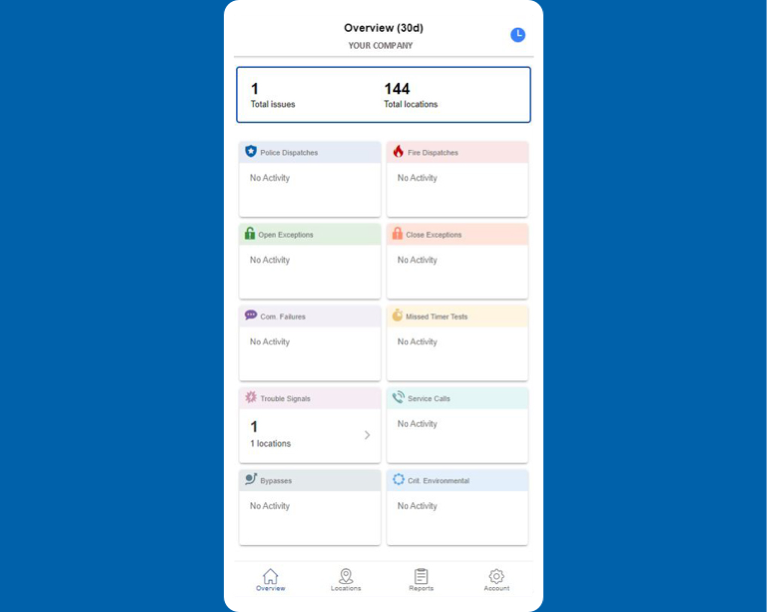 eSuite mobile for the way you work today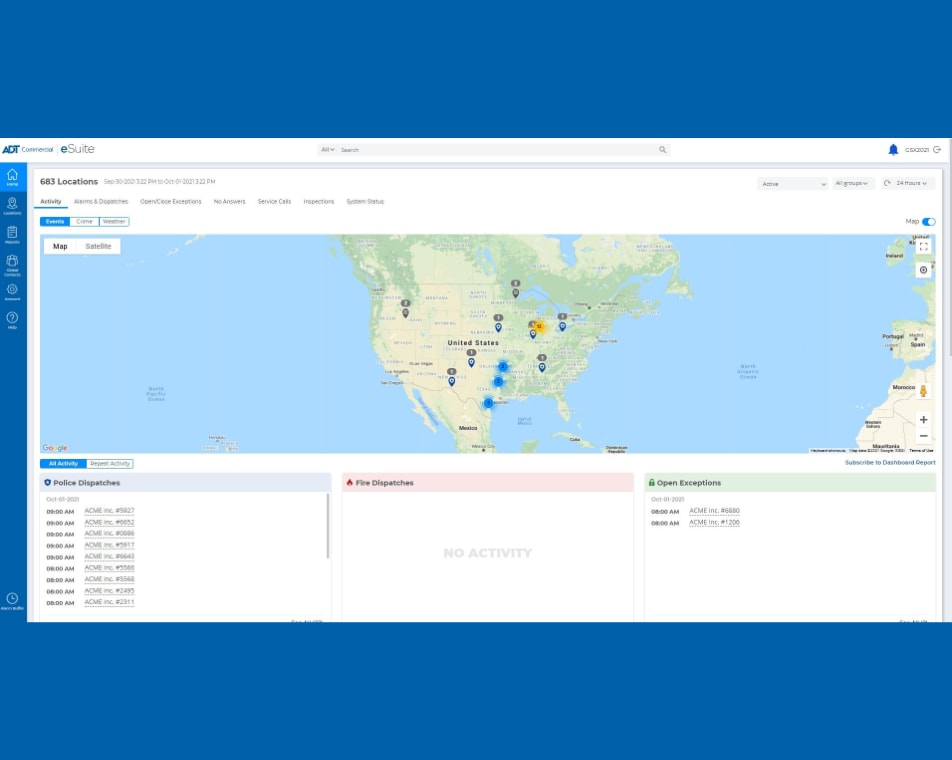 Next-generation account management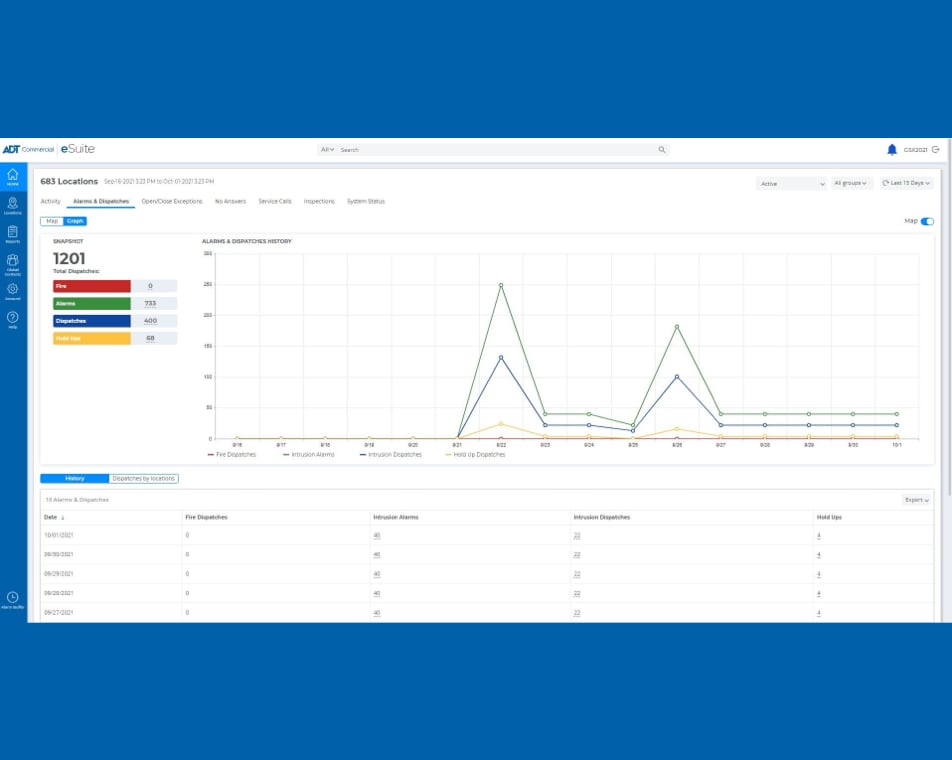 Activity dashboards
eSuite℠ account management
Our eSuite platform is a highly intuitive, next-generation tool that provides to-the-minute, actionable insight into your organization, fully equipped with account management capabilities that allow you to add and update contacts and alarm codes, manage system status, view video verified alarm events and more—all online, 24/7/365.
Fill out the form below and an ADT Commercial specialist will call you.