Industries
Retail
We help you maintain a safe shopping environment with integrated solutions customized to each of your sites.
Our comprehensive portfolio of end-to-end security, fire and life safety solutions helps protect a full range of retail facilities including stand-alone stores, high traffic retail stores and centers, and multiple-location national chains, including pharmacies.
Everon™ is founded on decades of experience serving commercial and National Account clients.
We've grown our commercial technical competency to serve customers in a unique way—with the scale and expertise to meet your needs throughout the U.S.
EAS and Security Gates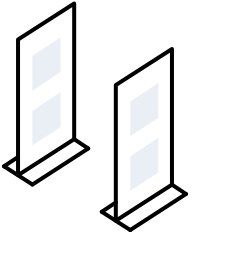 Our holistic approach to retail now includes Electronic Article Surveillance (EAS) systems and security gates, helping you to protect your retail assets and minimize shrink.
Electronic Article Surveillance (EAS) offerings include:
Broad portfolio of Wi-Fi enabled EAS configurations available for front-end theft detection
Specialty tags and labels to help protect a wide variety of merchandise
Integration with video surveillance and security gates solutions for a layered approach to front-end security
Remote tuning capabilities for cost-effective and efficient servicing of systems
Security Gates provide added value:
Help secure entrances and exits of stores, helping to reduce theft
Help in deterring flash mobs, smash and grab theft, and shopping cart pushouts
Assist in preventing returns fraud
Integration with video surveillance and EAS systems bolsters a layered security approach
Understanding your risks
You face operating with razor-thin margins, tight security budgets and a long list of issues that center around loss prevention, asset protection and inventory control.
Customer and employee safety are always a concern, as well as protection against fire, holdups, burglary, workplace violence and unauthorized access to stock. Shrinkage, gift card fraud and register errors can combine to make the difference between showing a profit or loss for the year.
We realize that you aren't looking for prepackaged solutions—you want solid advice, technical expertise, innovative thinking and consistent delivery performance that is scalable.
Expanded capabilities, endless possibilities
Our physical security solutions help enhance operating efficiency while reducing the risk of internal and external theft.
Whether protecting physical assets, assuring system uptime or monitoring activity at the point of sale (POS), our specially trained teams help to work as your partners. They bring decades of expertise to the job, delivering what you need when you need it, in compliance with code.
Customers tell us that juggling multiple physical security, fire suppression and monitoring providers isn't their ideal choice, and we can address those issues, too.
Committed to customer service excellence
While other national security providers may promise great customer service, we consistently deliver a great customer experience. This has helped us become a trusted partner for a long list of satisfied clients.
National and local
We offer customers the best of both worlds—a strong national company with local offices providing a quality service experience.
Qualified technicians
We dispatch technical personnel certified to service the systems at your sites, and they show up on time with the right equipment. We also email you when your technician is in transit to your appointment and technician picture so you know who to expect, and when.
Extensive experience
In order to help deliver an exceptional service response, we have thousands of our own technicians with an average tenure of over 9 years.
National Account Program
We created a National Account Program that makes it easy for you to do business with us by offering a single point of contact and dedicated teams to proactively manage your program.
Professional monitoring 24/7/365
We have dedicated commercial and National Account monitoring centers—redundant and listed by Underwriters Laboratories. We provide monitoring and advanced network services through our own National Account Operations Center and Network Operations Center.

Innovations for premier National Account customers
1 Touch team
We dedicate a team to each premier National Account customer. Your team will help you care for your business from order entry all the way through billing. This creates a truly seamless experience for customers and provides a true "one point of contact" approach. Our focus on performance enhancement allows us to better serve your needs by being proactive rather than reactive.
Customer scorecard
We collect a customer satisfaction score for every National Account installation and service call and compensate local operations teams in part based upon these scores. This helps to ensure that excellence in customer service remains the focal point of all team members.
1 Report
The 1 Report executive summary is prepared for premier accounts on a quarterly basis to review performance and help you plan for continuous improvements.
Let's start a conversation
We make it easy to switch providers, and our onboarding process is predictable, dependable and painless.