Top 5 ways to improve school safety and security
Reach out today for a security risk assessment of your school.
Evaluating the unique risks to your campus and identifying any existing gaps that need to be addressed immediately is fundamental to developing a comprehensive security and safety plan for your school.
No one set of physical security solutions is right for every campus or community. However, a layered, systems-based approach can help to detect, delay and respond to threats while also helping to avoid any single point of failure.
Think of layering security like concentric circles starting at the outer fringes or perimeter of your school campus and working toward the center. Each successive layer can include specific components that provide a protective element to hinder adversarial behaviors and delay an attack if other layers are bypassed or breached. Delaying an armed assailant can afford the critical time needed for first responders to manage the threat and take appropriate action.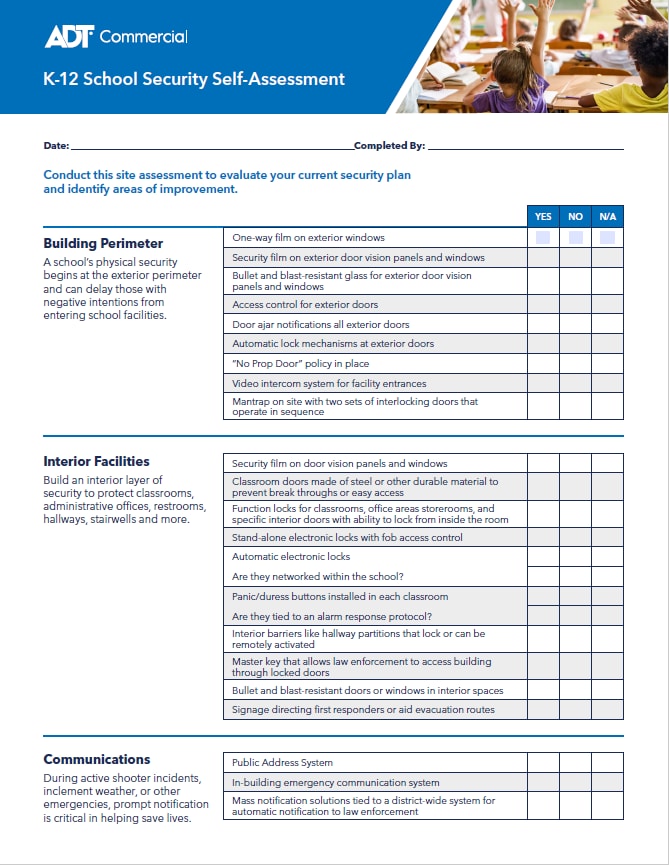 K-12 Checklist
Evaluate your school security program
One of the first steps in developing a comprehensive security and safety plan for your school is to evaluate the risks unique to your campus.
Download the school security checklist to help identify any existing gaps that need to be addressed on your school's campus.
Based on a summarization of recommendations from the Partner Alliance for Safer Schools (PASS) School Safety and Security Guidelines and the Cybersecurity & Infrastructure Security Agency (CISA), here are five proven ways to help assess building security layer-by-layer and better secure your school at every level:
1. Ensure compliance with district-wide physical security standards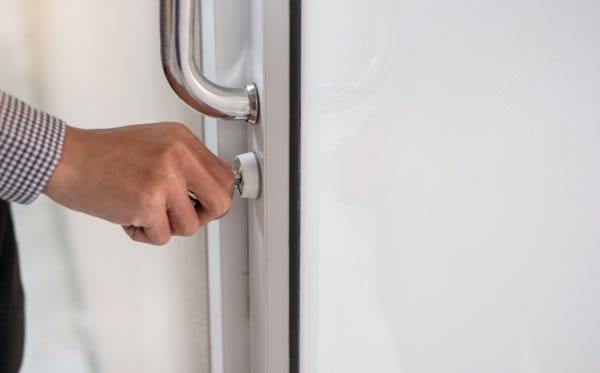 Be sure you have deep understanding of and are consistently adhering to district-wide standards to establish recommended best practices, including frequent lockdown drills and regular training so everyone—from students to faculty—knows what to do in an emergency.
Consider evaluating existing measures or implementing critical new practices, including:
Conducting annual physical security assessments to identify any emerging vulnerabilities and validate security measures at each location.
Implementing an effective visitor management system to track visitors at each campus location, determine who has the authority to deny access and outline what procedures are in place if an unauthorized individual is present at the school.
Locking classroom doors when occupied since secure classroom doors are vital to creating delays and preventing assailants from accessing classrooms. Therefore, it is highly recommended that a district-wide policy be put in place to close and lock classroom doors when occupied to create routine best practices and uniformity.
Offering consistent first responder training for school staff by collaborating proactively with local law enforcement and fire department agencies. This training should include conducting active practice scenarios on school grounds involving both students and staff.
Empowering staff at the individual school level to initiate emergency procedures, which can help to save lives during a fast-occurring event. These procedures must be documented and rehearsed by each school in the district.
Training staff on proper procedures to lock and unlock doors, with a formal plan to ensure all administrators, staff and teachers are well-versed and proficient in the correct operation to lock and unlock interior and exterior doors. Locking doors can delay access to an assailant and unlocking doors when required is equally important to allow first responders to manage the threat.
2. Prioritize a layered approach to perimeter security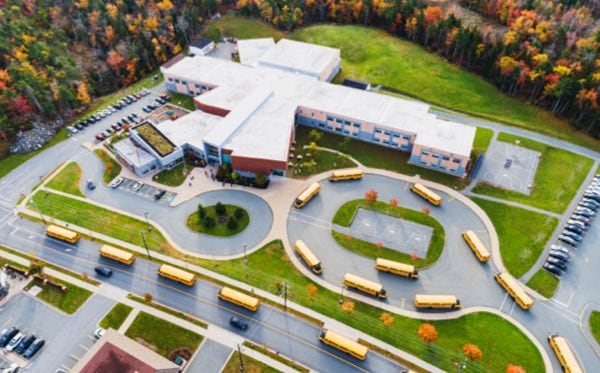 The physical security of a school facility begins at the property perimeter boundary, where the most outwardly visible security deterrents to an external threat can be implemented at playgrounds, sporting fields, parking lots and other facilities that are often used by the public after school hours end.
Focus on the following best practices to help better secure these outermost campus areas:
Posting clear and visible notice of the rules and responsibilities at the property boundary for anyone entering school property.
Prioritizing parking lot and facility security, since these are some of the most high-traffic areas on any school campus and may often experience the most safety issues. Consider that staff, students and visitors are constantly operating vehicles, or arriving and departing by bus or other means.
Implementing emergency call stations with direct connection to emergency responders should an incident occur.
Installing comprehensive video surveillance, adequate security lighting and access control systems can help to detect, monitor and track access throughout the parking areas and can help respond to any increased risk for car accidents, dangerous driving, accidental falls, incidents of theft, vandalism and assault.
Additionally, perimeter fencing is one measure to delay those with violent intent from entering school grounds. There is a wide range of options and tradeoffs for each. Crime Prevention Through Environmental Design (CPTED) principles can help schools think through implementing the most effective features without degrading overall ambiance or visual appeal, including:
Single point of entry allows schools to control when and how students, staff, family and community members are able to enter the building and can delay access to the property.
Emergency call stations provide a direct connection to first responders.
Video surveillance at entry points can help detect, monitor and track access.
Access control or automatic lock mechanisms can help secure facility entrances.
One-way, security film or exterior ballistic glass on exterior windows and door panels to limit view into classroom and common areas from would-be intruders.
3. Build an interior layer of security to protect classrooms and other interior rooms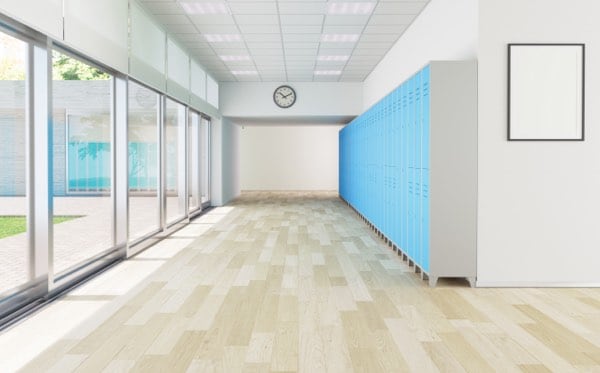 School building interiors are composed of everything within the school structure, including administrative offices, classrooms, restrooms, gyms, hallways and student centers or cafeterias. A coherent and clearly marked numbering system and signage for the entire building is a basic requirement to provide first responders directions to key areas of the school should an incident occur.
Many of the same measures used to detect, delay and respond to threats across other layers of the campus also apply to the interior, with access control systems at the top of the priority list.
Importantly, all classrooms, offices and storerooms must have functional locks with varying levels of technology available, including:
Stand-alone electronic locks with fob allow teachers to lock the door immediately when notified of a potential assailant on school grounds or in the building. A key fob allows easy access for first responders to open the door.
Automatic networked electronic locks can be used to quickly lockdown the school interior to delay an assailant's access to students and staff.
Panic/duress alarms can immediately and discreetly notify first responders of a critical emergency.
Master keys provided to first responders can be used to gain critical access to the building through locked doors in an emergency.
Security film on interior door vision panels can help prevent door glass from shattering and increase the time an assailant would need to break through the glass to access the classroom.
Safe and secure classroom doors made of steel or other durable material can help prevent forcible or unauthorized access to a classroom. Bullet-resistant or reinforced doors/windows are also a consideration that can provide law enforcement extra time to intervene in the event of an active threat.
Interior barriers can impede the free movement of an intruder throughout the building.
4. Implement effective mass notification systems and practices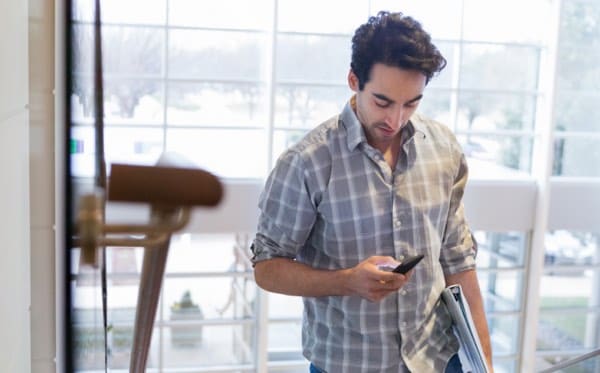 During active shooter incidents or other emergencies, prompt notification is critical in saving lives. Quick announcement of a lockdown must be made in a clear, audible message to everyone on school property at the onset of an emergency. This requires, at a minimum, a working public address or PA system enhanced by newer technology innovations, such as:
In-building emergency communications systems can enable notifications to specific classrooms or other areas of the school to provide specific instructions from law enforcement.
Mass notification solutions tied to a district-wide system can provide fast, automatic notification to all district schools, stakeholders and law enforcement of an active shooter or other emergency at a specific school.
5. Establish comprehensive video surveillance coverage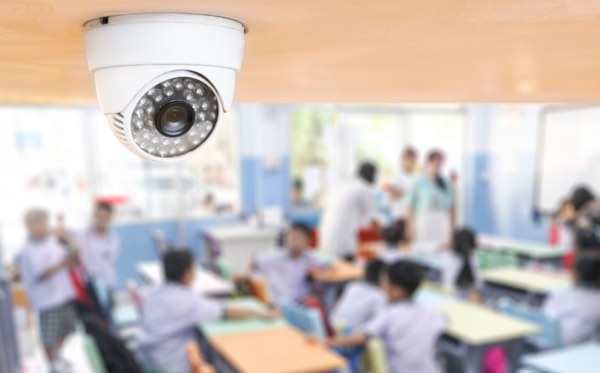 Video coverage of all interior and immediate exterior areas of buildings, especially where students and staff congregate, is a powerful tool to provide timely intelligence on circumstances around your campus.
Providing first responders access to video images means they can quickly assess and respond to any emergency and potentially pinpoint an assailant's location, movements and possible hiding spots.
Ensure video coverage reaches all campus areas, including vestibules, lobbies, stairwells, hallways, restroom entrances and restricted areas.
Consistently evaluate and test all systems to ensure no blind spots exist and that all cameras are functioning property.
Understand how the video is retained, for how long and who can access it.
For a layered system to work best, school districts must ensure the right policies and procedures are in place and that school staff is knowledgeable on the correct actions to take when they detect a threat. Importantly, regular but simple drills on these policies are critical to keeping students, staff and other members of the school community in the know about their roles and responsibilities when it comes to emergencies.
This checklist shows how taking a layered, systems-based approach to physical security risk assessment can help schools create safe and secure learning environments without requiring school staff to become security experts or compromising the educational mission.
Let's start a conversation
We make it easy to switch providers, and our onboarding process is predictable, dependable and painless.