Solutions
Occupancy management
Multi-layered tools for building occupancy management to help with social distancing and contact tracing protocols.
Reopening America
As the U.S. begins the process of reopening businesses, organizations of all sizes are looking for new tools to help ensure the safety of their employees and visitors.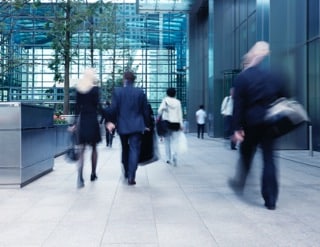 Building occupancy management can play a significant role in laying the foundation for social distancing compliance and contact tracing reporting as companies develop and plan re-entry strategies.
While not necessarily new technologies to the market, through innovation and customer feedback, traditional security solutions are being enhanced with new capabilities and reporting functionality to respond to the new safety needs of your facilities. Harnessing the power of the data these systems already provided can deliver new insights into your operations.
Access control and video management
Powerful access control solutions and robust video management systems can play a vital role as organizations begin to welcome employees and visitors back to their facilities.

Valuable insights
These valuable combinations can effectively help provide insight into:
Building occupancy levels and mustering status
Employee and visitor tracking
Security
Visitor management
Social distance monitoring
Lone worker detection and support

Movement tracking and mapping
For example, access control systems can help manage where individuals move within the environment and track those movements throughout the day. Coupled with mapping tools and specialized software, you can:
Receive alerts when the occupancy of your facility exceeds its capacity
Provide tracking to identify a suspected infected individual's movement throughout the facility
Receive comprehensive reports, with timelines that can correlate that individual's movement with others that may have been in the vicinity within a pre-set timeframe, allowing for faster response and notifications
Provide visual documentation of events with the addition of integrated video surveillance

Comprehensive solutions
ADT Commercial provides a comprehensive suite of access control and video management systems to fit the needs of organizations of all sizes across multiple industries. Whether you need wired, wireless or mobile solutions, or simply need to enhance your current solution to include new reporting functionality or additional devices, we offer a holistic, multi-layered approach to safety and security through advanced integration.
We provide a holistic approach to meet our customers' ever-changing security, fire and life safety needs. Our extensive offerings are constantly evolving to help keep America safe and secure as unexpected challenges emerge.
Fill out the form below and an ADT Commercial specialist will call you.