Education
K-12 education
We help you create a safe learning environment by protecting students, faculty, administrators, visitors and physical assets.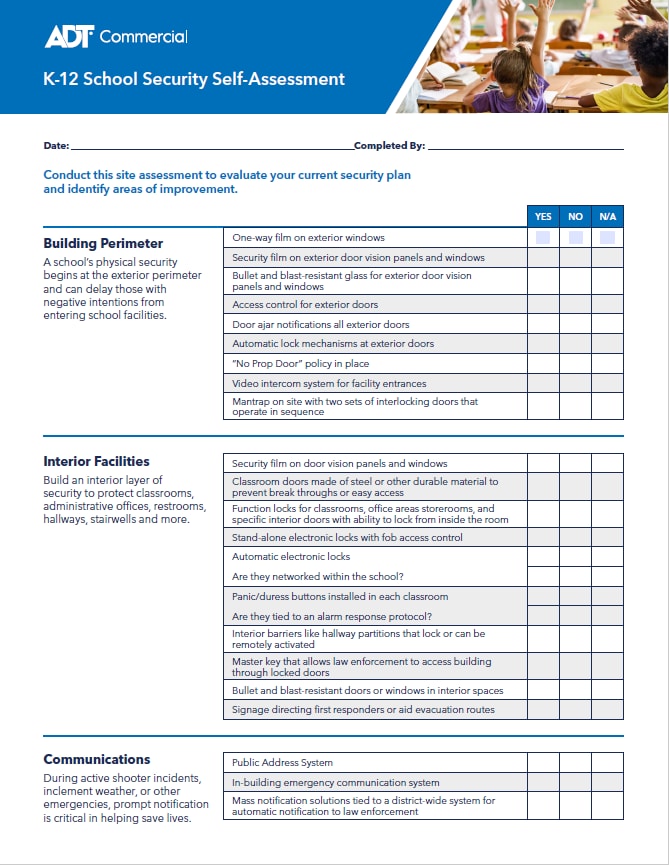 K-12 Checklist
Evaluate your school security program
One of the first steps in developing a comprehensive security and safety plan for your school is to evaluate the risks unique to your campus.
Download the school security checklist to help identify any existing gaps that need to be addressed on your school's campus.
We deliver integrated security and fire solutions for public and private educational facilities with the ability to meet the needs of day care centers, K-12 schools and school districts.
ADT Commercial is founded on decades of experience serving commercial and National Account clients.
We've grown our commercial technical competency to serve customers in a unique way—with the scale and expertise to meet your needs throughout the U.S.
Understanding your risks
Day care centers and K-12 educational institutions face a growing body of risks. Today's threats include bullying, weapons, vandalism, staff and student harassment, property theft and gang activity.
We appreciate your need to maintain public confidence and relieve parental concerns while balancing that with declining budgets, aging schools and random acts of violence that are on the increase.
We realize that you aren't looking for prepackaged solutions—you want solid advice, technical expertise, innovative thinking and consistent delivery performance that is scalable.
Expanded capabilities, endless possibilities
We have extensive experience working as partners with educational facilities at hundreds of locations across the country.
Integrated access control, intelligent video, asset management and perimeter detection solutions can be implemented to help protect entry points to your buildings.
We create flexible fire solutions that can include fire, carbon monoxide, smoke and heat detection, high sensitivity and specialized detection, fire and smoke damper services, firestop, fire doors, photoluminescence, 24/7 monitoring, test and inspection annunciation, voice evacuation, firefighter phones and mass-notification systems.
Our integration features provide a complete picture of your security, fire and life safety status—while simplifying the use and management of your systems for your administrative and educational staff.
Committed to customer service excellence
While other national security providers may promise great customer service, we consistently deliver a great customer experience. This has helped us become a trusted partner for a long list of satisfied clients.
National and local
We offer customers the best of both worlds—a strong national company with local offices providing a quality service experience.
Qualified technicians
We dispatch technical personnel certified to service the systems at your sites, and they show up on time with the right equipment. We also email you when your technician is in transit to your appointment and technician picture so you know who to expect, and when.
Extensive experience
In order to help deliver an exceptional service response, we have thousands of our own technicians with an average tenure of over 9 years.
National Account Program
We created a National Account Program that makes it easy for you to do business with us by offering a single point of contact and dedicated teams to proactively manage your program.
Professional monitoring 24/7/365
We have dedicated commercial and National Account monitoring centers—redundant and listed by Underwriters Laboratories. We provide monitoring and advanced network services through our own National Account Operations Center and Network Operations Center.
Let's start a conversation
We make it easy to switch providers, and our onboarding process is predictable, dependable and painless.