Solutions
eSuiteSM account management
We help multi-location businesses keep a finger on the pulse of their organization.
We continue to enhance our capabilities to better support your security needs.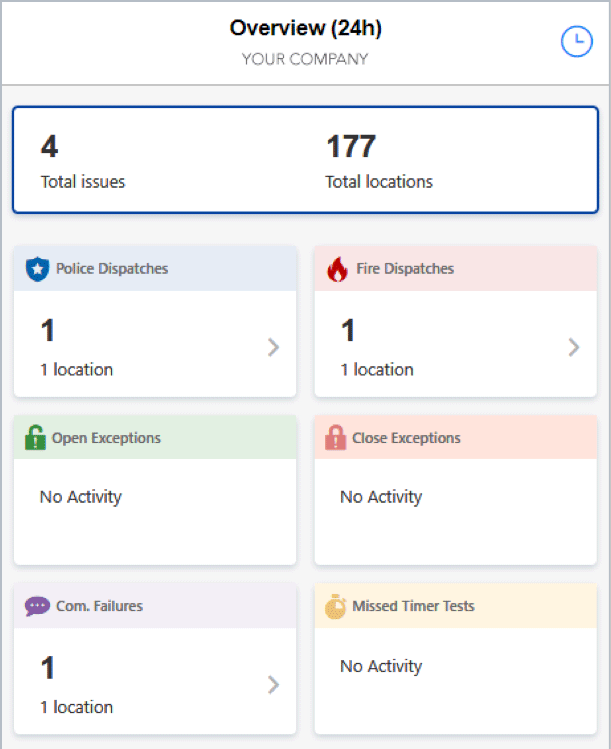 Next-generation account management
Feature rich and user-friendly
Intuitive functionality
Transparent data reporting
Access control integration
Next-generation account management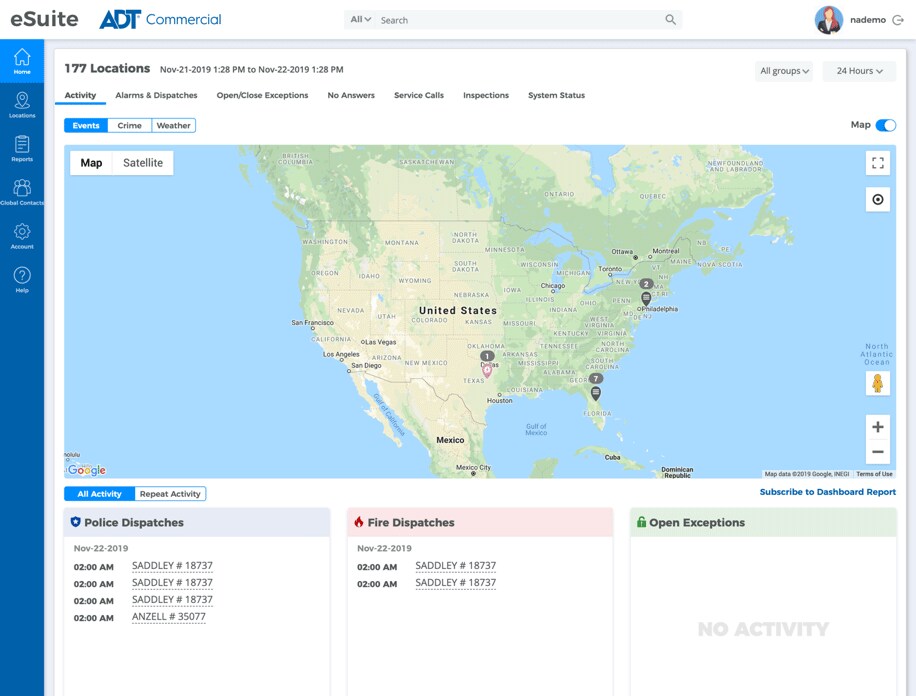 We listened to the evolving needs of national customers, then designed eSuite to address them.
This next-generation account management tool is highly intuitive to help multi-location customers keep a finger on the pulse of their organization. The mobile interface adds an incredible amount of flexibility, allowing your team to utilize key features of eSuite on their mobile devices.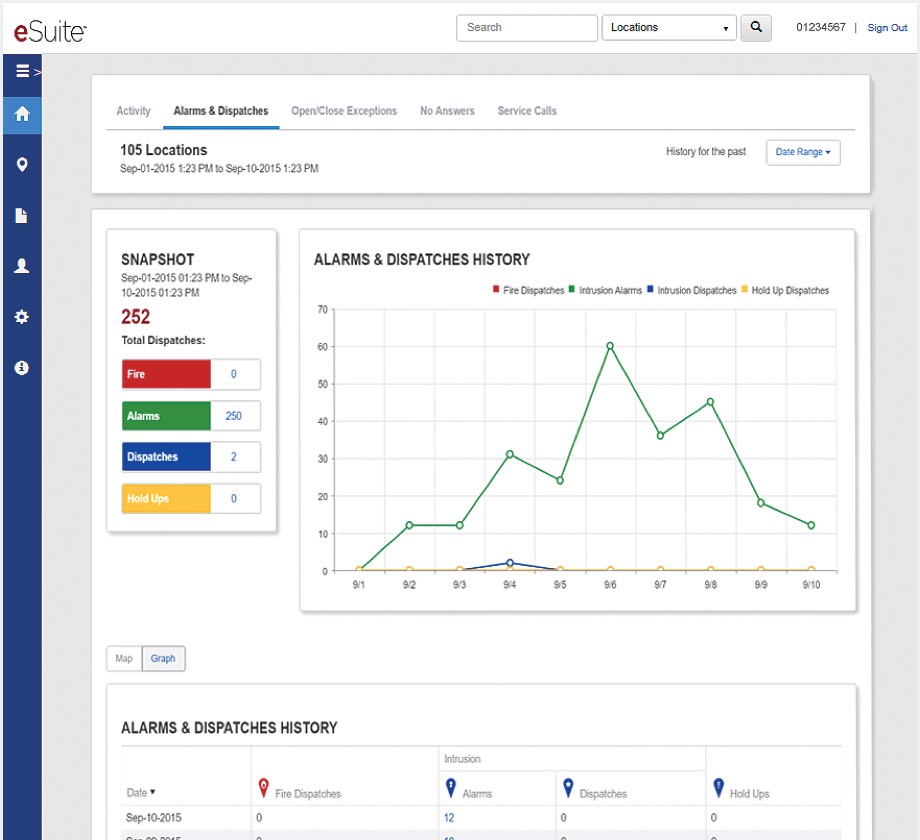 Activity dashboards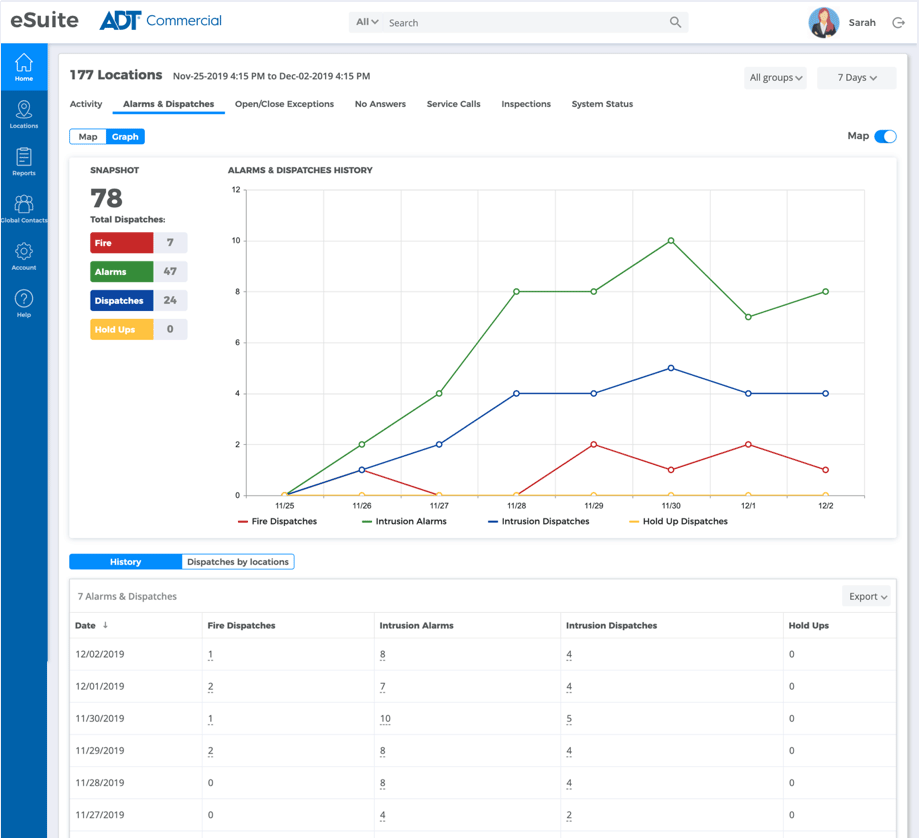 Activity dashboards let you quickly view critical location activity in a summary activity map or as a trending graph.
You can easily define a specific time period and then drill down using individual activity maps and graphs.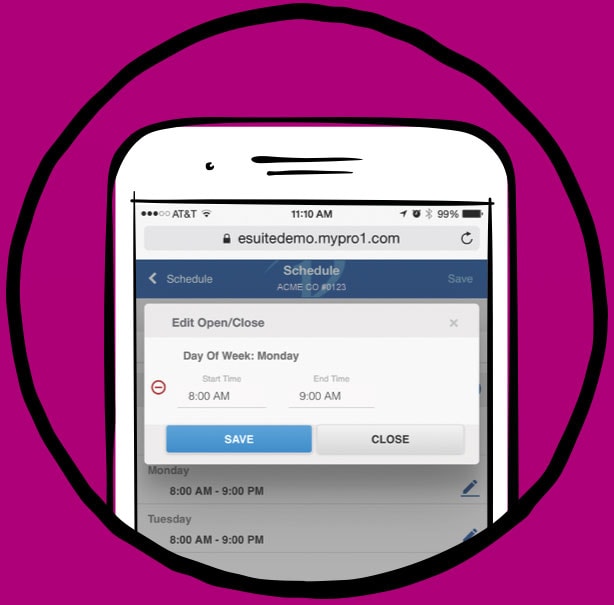 eSuite mobile for the way you work today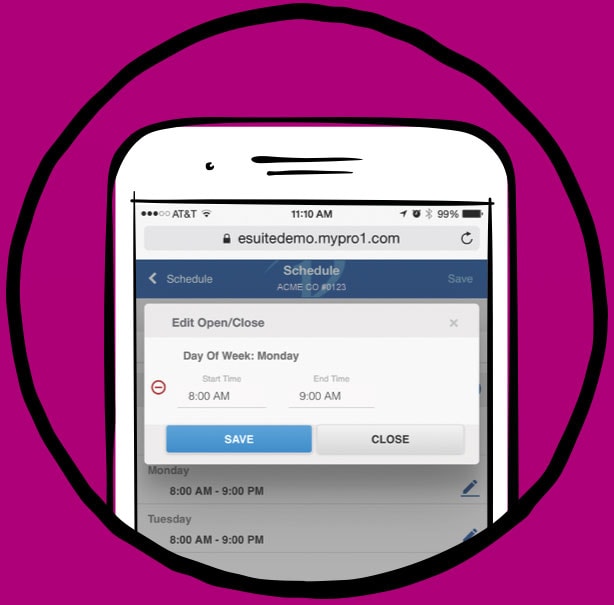 Create temporary location schedules

View and edit location contacts

Place intrusion alarm panels on or off test, watch tested zones check into our central station in real time
Feature rich and user-friendly
Access control features integration to cell or IP communication connected panels and allows for powerful efficiency and control over remote site permissions. In addition to existing real-time panel code edits, authorized users can now remotely edit, add and remove access control credential permissions in real time.
Arm/disarm and system status with cell or IP‑connected panels allow display of system status on eSuite dashboard, (armed, disarmed, or armed with bypass). Authorized users can arm and disarm systems remotely through eSuite.
Contact management is a breeze. Edit location contacts and implement permissions by territory, level or title—with the ability to effortlessly modify contact information for a single location or for multiple locations at once.
Dashboard notifications can be quickly configured to send selected daily dashboard activity notifications via email to help keep your team in the loop and on top of anomalies.
Dual-factor authentication allows the eSuite administrator to enable dual-factor authentication for their company's eSuite users to assist with increased security protection.
Keypad code management is an optional feature that allows your authorized users to request edits to location contact keypad panel codes at one or multiple locations—plus, users of IP or cell communication path panels can make those edits instantly.
Location information becomes much more actionable when you have access to panel information for all locations and can store location-specific information for easy retrieval—including installed product photos, fire alarm inspection documents and more.
Location permission management lets you assign location permissions to your key personnel by territory or site, along with access to specific features and the functions that you choose to share.
Permit management allows you to input location permit numbers and expiration dates for convenient reporting and renewal tracking. Permit management services are also available.
Product inventory features allow you to run reports of all products we have installed at your locations. You can quickly view install dates, warranty and maintenance expiration dates, and approximate replacement costs for budgetary planning.
Reporting features are robust and empower you to run dozens of standard activity and exception reports in real time, or schedule reports for recurring delivery via email.
Schedules change often. We allow you to modify existing schedules or create temporary schedules with "drag-and-drop" ease.
System tests can be handled anytime, with the ability to place an intrusion alarm system on test and remove from test, online. Watch test signals check in to our central station.
Video verification is a "must have" where a "verified" alarm is required to ensure a prompt response by law enforcement. Video verification service allows your security team to view video associated with intrusion alarm activity via eSuite for up to a year after each event.

Proven leaders

We are committed to using the strength of our brick and mortar local office footprint, operations centers, technological capabilities and experienced staff to earn your trust. We recognize that our success is incumbent upon providing solutions that help protect and enhance your business—with outstanding customer service at every touchpoint.
Commercial market strength
Our National Account strength has been built in part through the acquisition of solid local integrators that bring extended technological skill sets, including new risk management services and a 24/7/365 technical help desk to support advanced solutions, along with brilliant entrepreneurial thinking to our team.
We have a unique story in that the leaders of these strategic acquisitions have combined into our National Account organization and have chosen to stay with our company. Their leadership continues to provide insightful guidance to our technological, operational and strategic decision-making.
Customer service focused
Our organization is driven by the customer-focused practices that have achieved numerous industry accolades—recognizing ADT Commercial as a service delivery leader.
Same-day service is our goal, not an upcharge
Calls anwered by a live attendant within a few rings
Dedicated National Accounts Operations Center
Professional operational teams to meet a range of needs
Scalable solutions
As a National Account client, you will continue to enjoy the service excellence you have come to expect—along with added benefits, including an expanded U.S. office footprint. Added breadth and depth of technical capabilities will help keep your organization secure, with a focus on strategy as business threats and technology evolve.
Our central station monitoring services fortify your teams
We operate company-owned UL Certified monitoring centers, including a dedicated National Account monitoring center, all with redundant backup. Automated signal load balancing and backup architecture helps to ensure that your critical intrusion, fire and life safety alarms receive a response despite weather or other emergencies.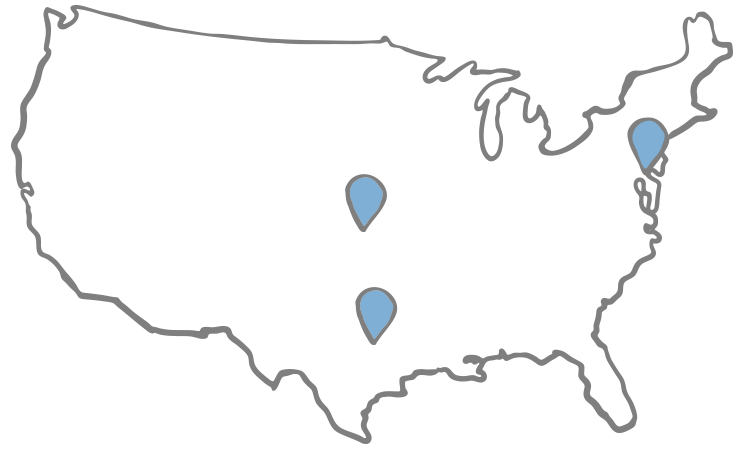 Give us a site or a project and let us exceed your expectations.
We make it easy to switch providers, and our onboarding process is predictable, dependable and painless. You will be assigned a dedicated team to help with recommending and implementing the solutions that fit your needs—ensuring a seamless transition.
Fill out the form below and an ADT Commercial specialist will call you.