Retail Security Strategy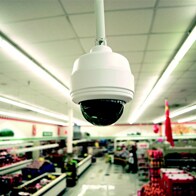 The primary objective of owning your own business is to maximize your profits. Retail security systems can help you keep your profits from walking out the door unnoticed. According to the Nation Retail Security Survey, small businesses often experience higher annual shrinkage than larger companies. In part because smaller businesses are not equipped with retail security systems. However, there is plenty you can do to reduce and/or prevent retail loss.
Make it Difficult for Retail Theft to Happen:
Instruct employees to be the first line of defense by greeting or acknowledging every customer who enters their department.
Provide personal customer service to as many customers as possible.
Instruct floor personnel to make frequent eye contact with customers who wish to browse on their own.
Assign zones for staff coverage so that floor personnel don't leave vulnerable areas unattended.
Instruct floor personnel to make a pleasant comment to every customer about the item(s) being taken into the fitting room, so that the customer is aware of what is expected to be either returned or purchased.
Always maintain 100 percent compliance when placing security tags on vulnerable merchandise.
Install added security measures in "blind spots" around the store (e.g., bright lighting, security mirrors, anti-shoplifting signs, and camera).
Lower displays around the cash register that block the cashier's view of the selling floor.
If your store is large in size, improve retail security by making frequent announcements over the public address (PA) system, such as "Security to area 4," even if your store doesn't have security personnel or an area 4.
Issue a criminal trespass warning to all known shoplifters who you want to be prohibited (by law) from entering your store again. Let shoplifters know, by work and deed, that your store prosecutes all offenders.
Supervise the Selling Floor:
Try to be on the sales floor at least 80 percent of the day.
When walking the floor, continually observe and respond to:

Mismarked merchandise.
Incorrect price signs.
Unattended price gun.
Open showcases.
Unlocked security fixtures.
Empty packages.
Inoperative security equipment.

To ensure retail security and loss prevention, encourage employees to keep their heads up and eyes open.
Train employees to observe and respond to:

Known shoplifters.
Suspicious customers.
Merchandise concealed for later pickup.
Open showcases.
Loose bags or gift boxes accessible to customers.
Empty packages.
Merchandise without security tags.

Don't allow merchandise to be removed from receiving until it is properly checked-in and marked.
At least once each week, verify the proper receipt of one delivery by counting and comparing the number of cartons received (and their satisfactory condition) to the amount shown on the waybill, and look for proper notations and completion.
Keep back areas neat and clean so that it's easier to quickly observe irregularities and manage retail security.
Prohibit vendors from going into back areas unsupervised.
Information provided by The Peter Berlin Report on Shrinkage Control, Store Managers Edition.The Peter Berlin Retail Consulting Group, Inc., 380 North Broadway, Jericho, New York 11753. Telephone: 516.932.0450.
More Resources
Get started with ADT business security
For over 140 years, we have led the way in innovative security solutions. Take advantage of our experience, technology and trained security professionals today.